In the Quarantine Body
When I say that autistic writers are singularly embodied, I mean that they experience life from utterly unique corporeal perspectives and that they experience life in uniquely intense ways. Imane Boukaila, one of my newest and youngest students, brings her intensity onto the page with remarkable poetic instincts. At just thirteen years old, this non-speaking poet wields language with a lyrical density I've rarely seen. In this poem, recently featured in Explicit Literary Journal, Imane gives the reader a bracing take on her experience of the present moment, which gives new meaning to the word mostly.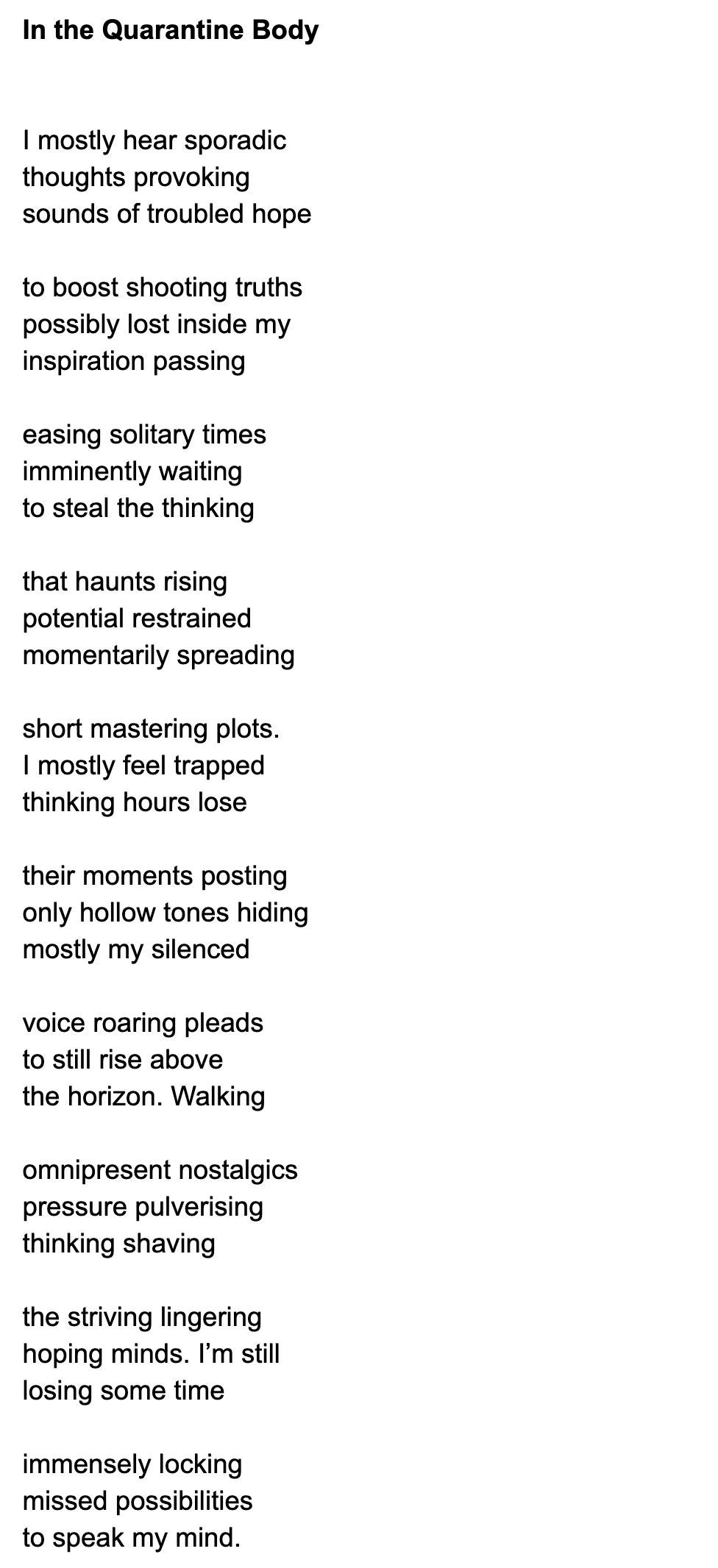 As Imane typed in Toronto and I transcribed in Minneapolis, I could feel those "ing" verbs starting to pile-up. I can't think of a better way to harness grammar toward an expression of the present: those "ing" verbs are the perfect vehicle to embody the lingering, mastering, pulverizing ongoingness of the quarantine. Many people have noted the way this moment is doubly precarious for people with disabilities and Imane sums it up with terrible eloquence: "I'm still / losing some time / / immensely locking / missed possibilities / to speak my mind."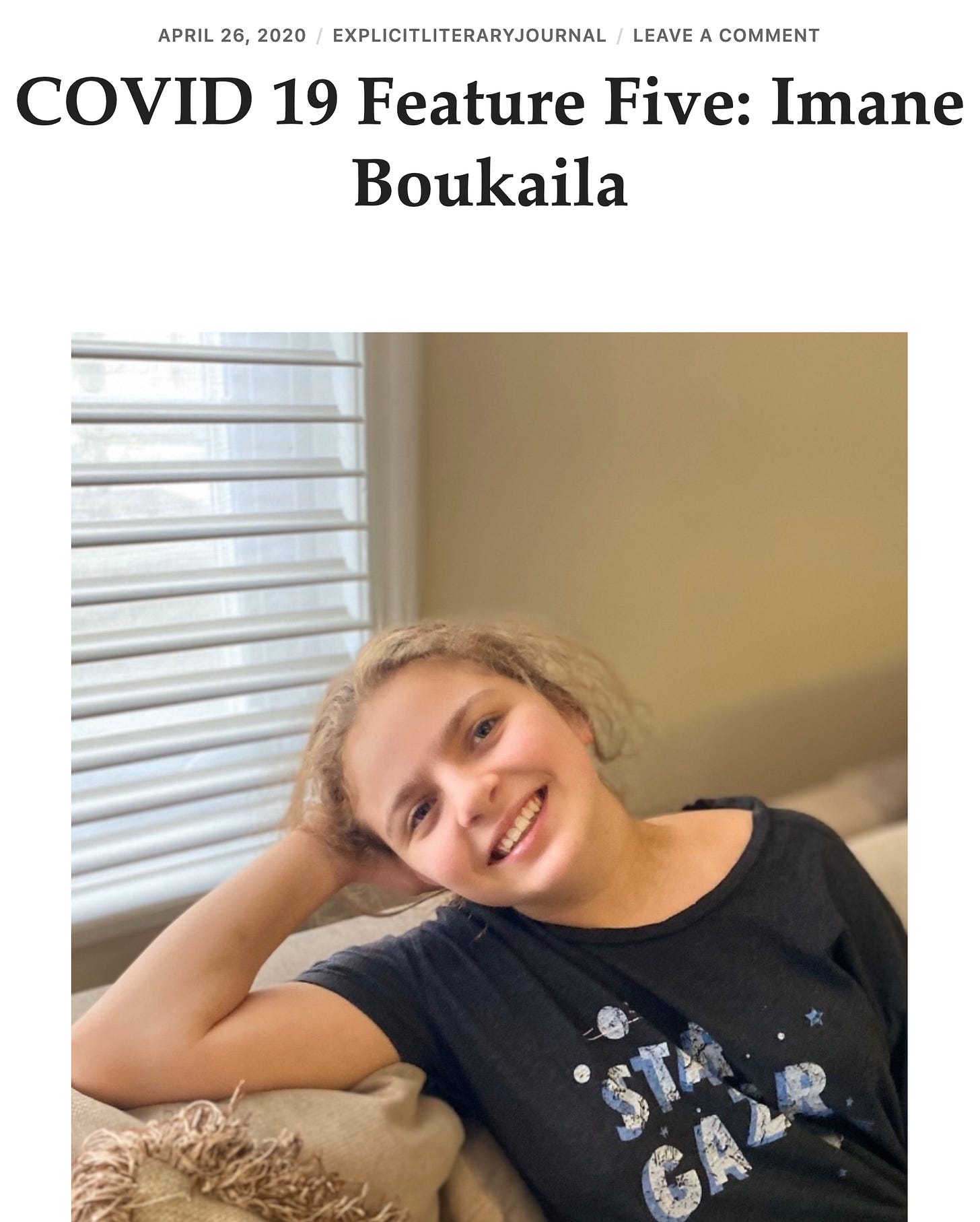 What immense gratitude I feel, then, for platforms like Explicit, founded and edited by Jasper Hardin, that work to amplify voices like Imane's. Explicit's mission is to showcase the visual art and writing of non-speaking and semi-speaking disabled writers and artists. Jasper interviewed Imane as part of their ongoing COVID 19 project and I particularly enjoyed this passage of their exchange.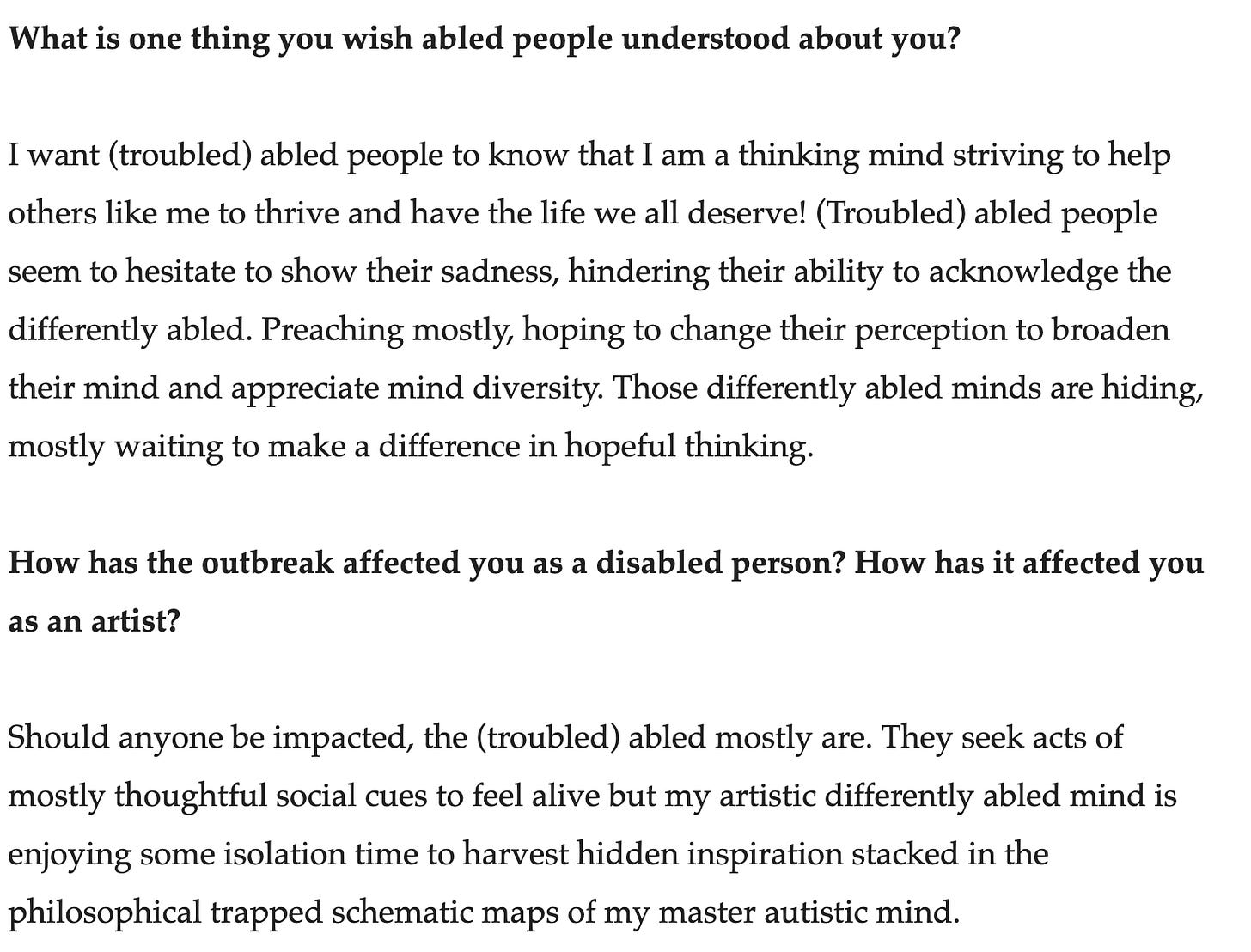 If you know one of these (troubled) abled people, impacted in their own quarantine bodies and looking for a guide, please share Imane's work with them. Her ability to own, embody, and articulate intensity might be able to show them a way forward.
Walking Omnipresent Nostalgics,
Chris
PS: Jasper and Explicit Literary Journal are hosting an inaugural workshop this month explicitly designed for non- and semi-speaking writers and artists. It should be a fantastic resource.