The Listening World
Dispatches from our neurodiverse future
Welcome to The Listening World, a newsletter where all the news is poetry and all the poetry is written by neurodivergent writers. I will aim to bring you a new poem every week and at least one new song a month, all created by students with Unrestricted Interest, an organization dedicated to helping neurodivergent learners transform their lives through writing.
This inaugural poem, from which the newsletter takes its name, comes from Hannah Emerson, a 27-year-old poet from Lafayette, NY. Hannah is a non-speaking, autistic typer who describes poets as "keepers of the light."
---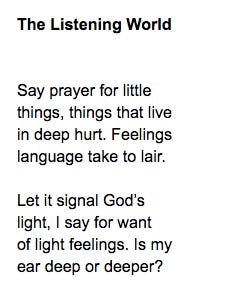 ---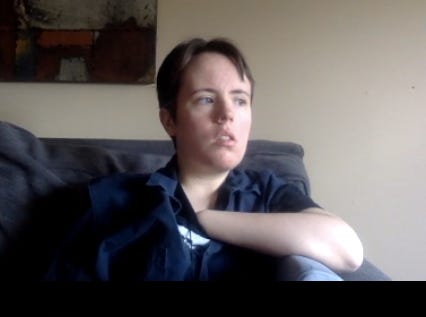 In my work, I'm always looking to deepen my ear, but I don't imagine it will ever grow as deep as Hannah's. Reading and listening to poems helps me enter Hannah's world, a world that heralds a neurodiverse future we will all come to share. Over the coming weeks, I hope your ear finds its own lightful depths. If you want to read more of Hannah's work, head here, and keep any eye out for her first chapbook, which will be published in 2020.
In the meantime, feel free to spread the word (and the light).
Listening,
Chris